The styles of yoga that I teach are as follows..
Yin Yoga
Yin yoga is similar to Restorative yoga in that you hold postures for 3 to 5 mins.
The difference with Yin is that you are finding your edge in the postures to the point where you know you are working.

We also are working with the meridians lines to assist with the flow of blood and energy in the body.
In Yin we are not building up muscles we are working with the Connective Tissues / Fascia
Restorative Yoga
Restorative yoga is a deep relaxation practice where students are guided into postures and are encouraged to finding the most comfortable position in the posture.

Muscles are not being worked and also, we are not working with the Connective Tissues / Fascia
Hatha Yoga
Can be Gentle, Medium, Strong. Postures are held up to 5 breaths and is a great way to start your yoga journey as it allows you to focus on good posture and alignment (Foundations) and the breath
Yoga Nidra
Deep relaxation practice. 10 to 30mins
Student lie in Savasana (on their back) and close their eyes and listen to the guided meditation.
This can be run as a standalone practice of at the end of all the above practise, except for Vinyasa Flow
Pranayama & Meditation
Pranayama & Meditation are traditional, foundation yoga practices that help transition you into a more centred relaxed state. The practices bring awareness to the breath and this can also include mantras (repeated words or sounds). These practices can be preformed by themselves or at any time during a Yoga practice
Where I Teach
Currently I'm teaching 2 class of Yin Yoga at Virgin Active, Frenches Forrest each week.
I also teach Hatha Yoga and Yoga flow (Vinyasa) classes when providing cover for other teachers.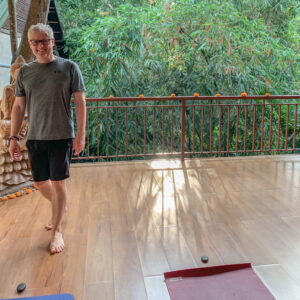 YOGA
BODY - MIND - SPIRIT
They say that yoga finds you and thats exactly what happened to me.
I had being going to my local yoga centre for several years and what I noticed was the more I went the more balanced I became 
Then one night after coming out of a deep meditation I had and Ahu moment where I just knew that I needed to become a yoga teacher so that I could assist others in finding their balance too
Follow me on Facebook, Instagram and YouTube
Subscribe and receive a monthly newsletter that will contain information on up and coming events and retreats as well as links to free Yoga and Coaching videos!